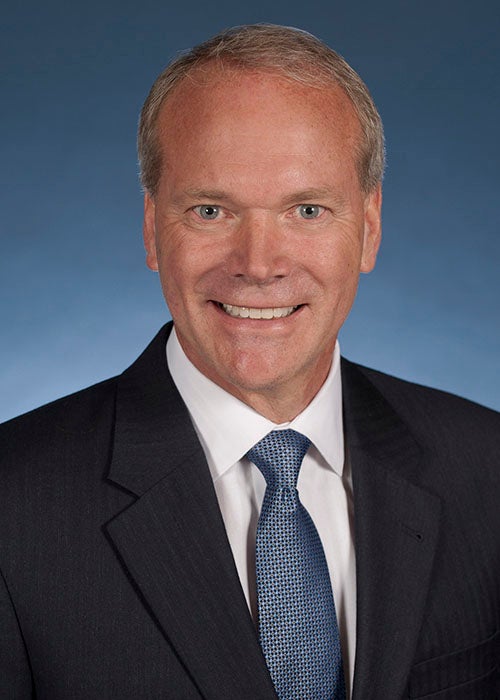 Brett Wood is President & CEO of Toyota Material Handling North America (TMHNA), and Senior Executive Officer of TMHNA's parent company, Toyota Industries Corporation (TICO). Wood is the only non-Japanese TICO executive and the 12th highest-ranking executive in the global company of more than 66,000 employees.
TMHNA is comprised of two main group companies: Toyota Material Handling (TMH) and The Raymond Corporation. Together, the TMHNA companies produce an average of 1,600 forklifts per week, and one in three forklifts sold in North America is either a Toyota or Raymond product.
Toyota, the number one forklift brand in North America, offers a full line of material handling solutions including forklifts, automated guided vehicles, fleet management services, scissor lifts and tow tractors, and operates a zero-landfill forklift manufacturing facility in Columbus, Indiana. The Raymond Corporation, the leading provider of electric forklifts in North America, also offers automated forklifts, fleet management services and is headquartered in Greene, NY.
TMHNA develops, manufactures and distributes award-winning material handling products from nearly three million square feet of manufacturing and office space, including five plant locations in Columbus, Indiana; East Chicago, Indiana; Greene, New York; Muscatine, Iowa; and Oakville, Ontario, Canada. With annual revenue of approximately $4 billion, TMHNA has more than 10,000 associates and more than 300 dealer locations to support Toyota and Raymond customers throughout North America.
TICO was founded by Sakichi Toyoda in 1926 as a manufacturer of automatic looms and is the company from which Toyota Motor Corporation was founded, by Sakichi's son, Kiichiro Toyoda.
Today, TICO is a $20.2B company headquartered in Kariya, Aichi, Japan with 275 group companies worldwide. TICO is a global leader in material handling, textile machinery, and car air-conditioning compressors, and also has a strong global presence in advanced logistics and automotive engines and electronics. In addition, TICO produces the RAV4 for Toyota Motor Corporation.
In addition to his position as president & CEO of TMHNA and senior executive officer of TICO, Wood serves as a board member for TMH and The Raymond Corporation.
Wood's previous positions included president of Toyota Material Handling U.S.A., Inc.; vice president of marketing, product, strategic planning and training operations; and dealer development. He has worked in the material handling industry since 1989 and in 2018 was selected as Industry Week's "Manufacturing Leader of the Week" award.
Prior to joining Toyota, Wood held engineering positions with IBM Corp. and Northrop Aerospace, where he earned the prestigious recognition of "Engineer of the Year." He has a bachelor's degree in mechanical engineering from Cornell University in Ithaca, N.Y.  He currently serves on the Cornell University Mechanical Engineering Advisory Council.
Wood gives back to the material handling industry serving as Chairman of Material Handling Industry (MHI), having also served as President, Vice President and is currently a member of their Board of Governors.  He previously served as the Chairman of the Board of Directors for the Industrial Truck Association (ITA) and as the ITA's General Engineering Committee Chairman and currently serves on the ITA Executive Committee. Wood also served as a member of the Manufacturers Board of Advisors of the Material Handling Equipment Distributors Association (MHEDA). He is the first TICO executive to be elected to these industry board positions.
He previously contributed to both Modern Materials Handling magazine's editorial advisory board and the Electric Power Research Institute's Industry Advisory Council. In addition, he was on the board of the California State Soccer Association for 6 years serving as Vice President and was a soccer league president for 10 years. Wood was also a Board member of SafetyBeltSafe USA, the national nonprofit organization solely dedicated to child passenger safety, and Team Kids, a nonprofit organization focused on empowering children to change the world. He also dedicates significant time to the Make-A-Wish foundation.